Zoomy taxi app is a game changer
I don't often have a need to get a taxi these days as I am less out and about than I used to be, but when I needed to drop my Holden in for a service, I jumped at the chance to call a taxi via the new Zoomy app taxi service.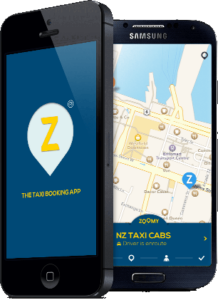 I'd heard about zoomy via a few technology blogs and on the radio and thought it was a good idea. Phone apps with a specific function, that make innovative use of your smart-phones' embedded sensors can redefine the way things can be done in everyday life.
I hadn't realised how innovative this was and how different it was from the usual Taxi shenanigans until I used it and struck up a conversation with my driver (Mr SS by the way… rated 5/5 on the Zoomy app).
The major change with Zoomy, is that there is no dispatcher whatsoever. Open up the app, tell it to get a taxi and it sends out a message to all the Zoomy drivers nearby. One of them quickly presses the 'take it' button on their device (yes, their device is just a smart phone) and they get the job. Around three seconds after I clicked 'go', I saw my taxi confirm. Six more seconds went by and my driver called me to confirm he was 5-7 minutes away.
Zoomy shows you on a map where the taxi is, and you can see it winding its way around the streets to get to you. You get a little notification to tell you it has arrived. Not only that, the fare meter is also built in – you can see how much you are spending per km as you drive along towards your destination. When he clicks the stop button, it nicely ask you to pay the driver and then submit some feedback about how you enjoyed your trip and your driver.
In the convers
ation with Mr SS, he told me he enjoys working for the company a lot more than when he worked for a larger firm. If he got fatigued, in the past he would have to go home or stop at a local service station for a rest. Zoomy has a nice drop-in centre on Quay st I'm told, with couches, TVs and free coffees for the drivers. He stops in for a chat & a rest then carries on when he is ready.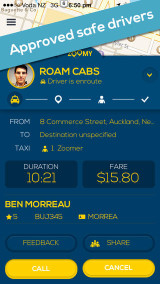 Only a few minor layout suggestions I'd have with the app – it does try to squeeze a bit on one page where a step 1, 2, 3 system might have been more intuitive, and I was unsure about pressing a couple of buttons incase I prematurely hailed… but all up they have put a lot of work into it and once I figured out how to book for 15 minutes time instead of 'now' the signup/use process was pretty simple. I realised that I could have actually booked once I was ready to go anyway – I certainly don't mind waiting 7 minutes, especially if I know the taxi is guaranteed to turn up.
Definitely a game changer, and I know the larger companies are worried based on how much Co-op Taxies are suddenly advertising their own app on the radio. This is the sort of thing that smart phones were born for.
Zoomy on the Google play store for Android
Zoomy on the iPhone app store
Zoomy app instructions on YouTube
The Zoomy Website