I researched, bought and installed an electronic front door lock to go with the home automation & security system for under NZ$200.
Lachco SL16092RM
Link: https://www.aliexpress.com/item/L-S-Hide-Key-Touch-Remote-control-Screen-Keypad-Password-Spring-Bolt-Access-Smart-Electronic-Door/32778625010.html
Product Manual: https://drive.google.com/open?id=1xE2si3EdwyT5mt4H5RJSIH_G55Evh-7T
Access Tags: These are the tags I bought (if you want keyring tags). They are Mifare-1 and you need to order with the lock for this supplier. https://www.aliexpress.com/item/This-ID-Card-for-Our-Lock-SL16-073S/32745201036.html
Features:
Approx NZ$160 landed when I bought it, but I see it has gone up slightly (freight is about $40 of that). I see you can get in a silver and bronze colour now.
RFID Tag/Card access and PIN access
Physical Key access (this is really for override/emergency access, I've never needed to use it)
Most importantly to me, it has an RF remote also, so you can control from a home automation system in future by connecting the remote buttons to relays/mqtt etc
Battery operated (no hard wiring or door core drilling needed). Takes 4x AA, which seem to last more than a few months with decent alkaline batteries.
Replaces standard latch set (60mm from door edge).
Free handle exit (physical) and door can be pushed closed (ie the latch does not need to be in to close, as with many motor driven or deadlocks)
Issues & Notes: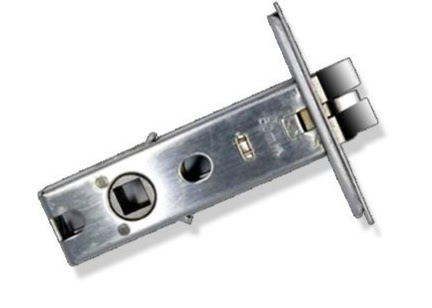 After over a year of use it has held up pretty well apart from a latch breakage. The internal door tongue mechanism that was supplied broke once (after about 6 months) but it is a generic part and I got one from a locksmith. Possibly the spring had just fallen out of it, not sure.
The front plastic clear cover was looking a bit manky, but didn't realise it had a clear cover on it which I removed after the first year. People like the tags, and having a PIN as a backup is useful if you go for a walk and want to leave your keys behind. I haven't actually hooked it in to MQTT yet, but I do use the remote to unlock the door from a distance (it sits at my desk in the lounge currently…)
Remember to put a number/ID on all the tags you hand out (I engraved mine – they come with no markings at all). If one gets lost, you will need to remember which programming slot it was in so you can delete it.
Also, I recommend handing out different PIN numbers… so if you think one has been give out, you can delete it.
A minor annoyance with the lock, that it appears you can't change… it takes 9 presses to unlock with a pin number. A two digit ID followed by a 6 digit PIN then the '#' key. The instructions seem to suggest you can change this to 4 digits, but a quirk in the programming stops this… and the supplier doesn't seem to know what I'm talking about. You need a 6 digit PIN to change to 4 digits, and when you change… your programming PIN is still 6 digits, so you can't enter it! Trust me, I tried to figure it out for hours.