Upgrading a 5 Year Old Samsung Galaxy S2 to Android M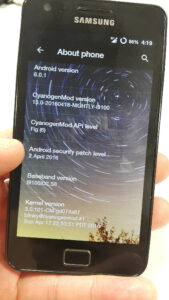 I needed a phone for my son as he had been given an older ZTE V795 phone running Android Gingerbread. The ridiculous thing about this is that besides the fact there is really no way to easily upgrade or change out the ROM on this phone… you can't even update the current setup as any 'play store' updates fail even with the stock apps (and some deleted) due to lack of storage. Rooting the phone, trying links2sd tools and further trimming it down didn't fix the issue, and even it if had you are still limited by the poor RAM size and internal storage etc.
Luckily I was gifted an older Samsung Galaxy 2 phone by a colleague so I looked to rebuild it with a tidier more modern ROM, and chose the well maintained Cyanogenmod. The had recently released Version 13, which uses Android 6.0 (Marshmallow) as the base.
Note that at writing, CM13 for the S2 has no 'release channel' (or stable ROM), only nightly builds which can sometimes be a bit 'leading edge'. After the install however, I found it pretty rock solid with impressive battery life for a 5 year old phone and battery, it is plenty fast enough and or course Cyanogenmod has plenty of customise-able features and themes (I haven't yet tested all functions like bluetooth etc however)