Samsung Galaxy S5 Release, Impressive?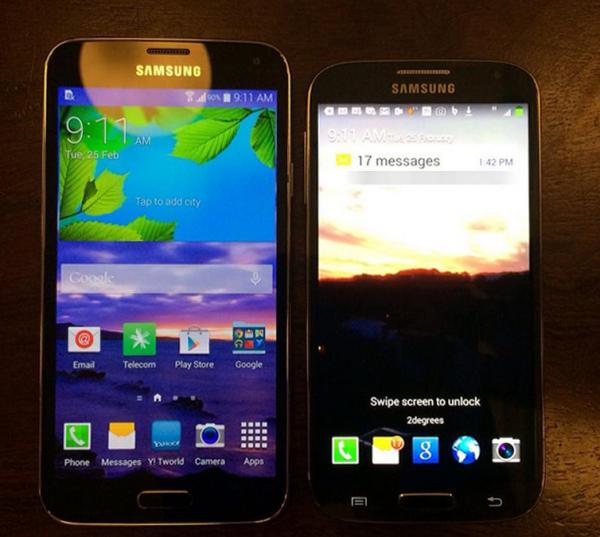 I see the S5 has just been announced by Samsung finally at the Mobile World Congress in Barcelona & and it will be available in NZ on April 11. I have been looking over some of the features after having an S4, Note 1 & 2, and various other Android phones.
There are some incremental improvements and a few new features worth mentioning. The processor has been bumped from 1.6GHz quad core to 2.5GHz quad core and the main camera is now 16 megapixels with apparently faster focus etc, however every photographer knows that MegaPixels are no longer the measure of a decent camera, so time will tell if the results come out better than it's peers. Slightly bigger and heavier than the S5. Screen resolution still the same (lower PPI as the size is bigger, but for me, 400PPI+ for a phone is more than needed). Still a plastic case but rippled back similar to the Note III. Apart from those basics, here are a bunch of features I though worthy of a comment.
IP67
Excellent. Some phones have this dust/water resistance already (there was an S4 variant) but one day all electronic devices will be IP67+ which means fewer warranty claims from people dropping them in the toilet. I'd quite like to call someone whilst diving one day.
4K video
Wow, that is great and a few other handset manufacturers are adding this. Hopefully it is 25fps or better… my GoPro is only 15fps at that resolution which makes it less useful for general video. Also hopefully (like still imaging) Samsung has concentrated on video performance, as in comparison the iPhone 5 in 1080 mode gives pretty good results. People might say 'but 4K TVs aren't mainstream yet', however with video, higher resolution is great for editing & you can never have enough video pixels (if the quality is not compromised)!
"Download Booster Technology"
Samsung says this will "boost data speed by bonding Wi-Fi and LTE (4G Mobile) simultaneously. A good idea doubt it noticeably will do much unless apps specifically support it over time. Anyone who has tried to bond networks together for a single user knows there is a lot of work involved in predicting use and passing/returning packets to the right place.
Heart rate monitor
Gimic. A heart rate monitor is only really useful if you can monitor & log 24/7 without having to touch something. Why would they bother? The Samsung S-Health app is pretty annoying too, so hopefully the monitor will easily be available to other apps. Once you have had a Polar + their app or a similar watch, you wouldn't want to go back to pressing your finger on a phone to get a readout.
Camera HDR
They announced this, but the S4 already has HDR which works quite well so I don't know what they are going on about there. I take a lot of photos in HDR mode on my phone, maybe they have improved on it, so it would be interesting to see.
Fingerprint Reader
This seems to be what everyone is putting on phones these days… in the same way they appeared on laptops a few years ago. Samsung's is on screen (and requires a swipe) rather than on the home button a la Apple. I think this could be useful over time as an additional authentication method and if it proves rapid enough in operation, great for screen unlock. Not sure when Vendors will get onboard with Samsung's 'purchasing via finger-print' aspirations… might be a while.
Bigger Battery
Phone manufacturers struggle with battery size vs getting their phones thinner and lighter. Good to see Samsung are bucking the trend here and opting for a bigger battery in spite of the bulk increase. Personally, I'd rather a longer life.
Summary
In summary, I think I like what they have done incrementally, but time will tell how all the features add up on the comparison tests against the other Android device releases.
Overall Feature Comparison S5 vs S4
| | | |
| --- | --- | --- |
| Model | Samsung Galaxy S5 | Samsung Galaxy S4 |
| Display | 5.1-inch Super AMOLED display with full HD (1920x1080p) resolution having pixel density of 440 plus ppi (pixels per inch) | 5.0-inch Full HD (1920x1080p) Super AMOLED display with 441 ppi |
| OS | Android v4.4.2 KitKat OS | Android Jelly Bean v4.2.2 OS (KitKat update has been released ) |
| Processor | 2.5GHz Qualcomm Snapdragon 801 series quad-core CPU(chipset: MSM8974AC) | NZ variant: GT-19505: 1.9 GHz quad-core Krait 300 |
| GPU | Adreno 330 | NZ Variant: Adreno 320 (GT-I9505); |
| RAM | 993MHz 2GB DDR3 | 2GB |
| Storage capacity | 16GB/32GB , expandable via micro SD card | 16GB/32GB, expandable via microSD card. (I happen to have a 32GB S4 and 64GB card in the SD slot, way more space than I can use). |
| Camera | Main: 16.0-megapixel camera with HDR, fast (0.3-second) auto-focus, 4K video recordingFront: 2.1-megapixel camera with full HD video recording | Main: Main: 13.0-megapixel Auto-focus, HDR, Flash & Shutter Lag with BSI sensorFront:2.0-megapixel pixelcamera, full HD video recording |
| Battery | 2800 mAh battery with Ultra Power Saving ModeTalk time: up to 21 hoursStandby mode: 390 hours | 2600 mAh; |
| Network | LTE Cat.4 (150/50Mbps) | 3G, 4G-LTE |
| Connectivity | Fifth generation Wi-Fi (802.11 a/b/g/n/ac HT80, MIMO (2×2)), Bluetooth v4.0 BLE/ANT+, NFC, IR Remote | Wi-Fi, NFC, Dual-video camera function, IR LED,GPS /GLONASS, Bluetooth v4.0 |
| Add-ons | Water-proof and dust-resistant IP67 certification, finger print based biometric technology, built-in heart-rate monitor, Kids mode, Private mode, Download booster, S Health v3.0, | Gesture-control features like Smart-Scroll, Smart-Pause, WatchOn, S-Voice Drive |
| Dimensions | 142.5 x 72.5 x 8.1 mm | 136.6 x 69.8 x 7.9 mm |
| Weight | 145 g | 130 g |